Peachie Speechie Articulation Videos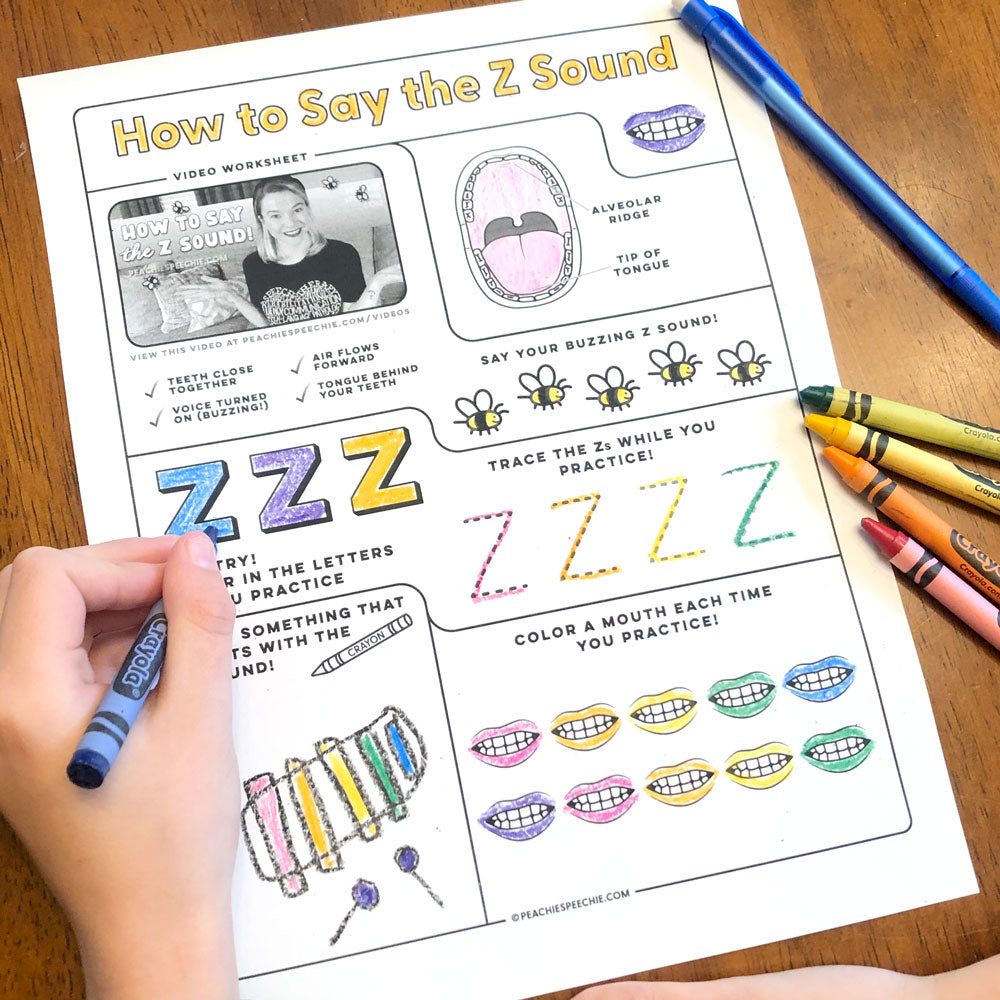 Video Worksheets
Improve your video viewing experience and keep little ones engaged with our worksheets designed to complement our sound in isolation videos. Just hand your student a copy of the worksheet, a pencil, and some crayons, and let them complete the interactive activities while you play the video.
Download now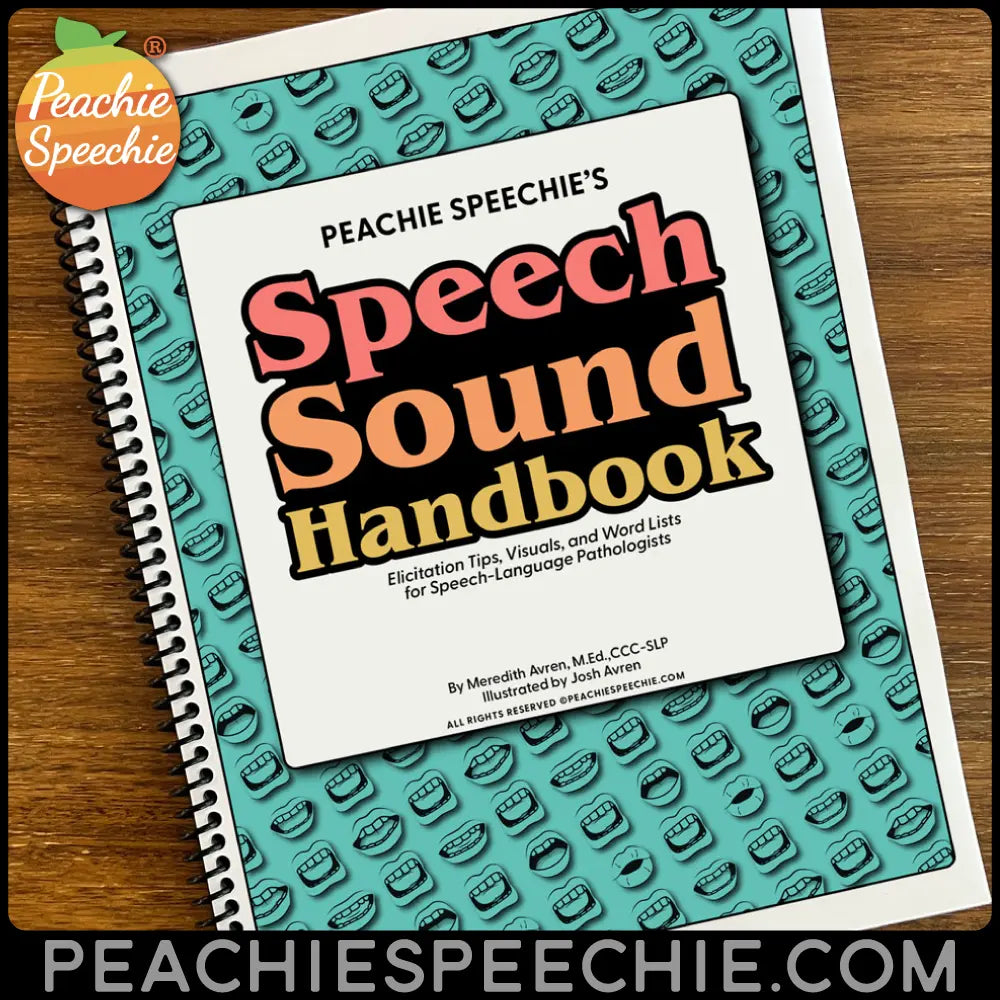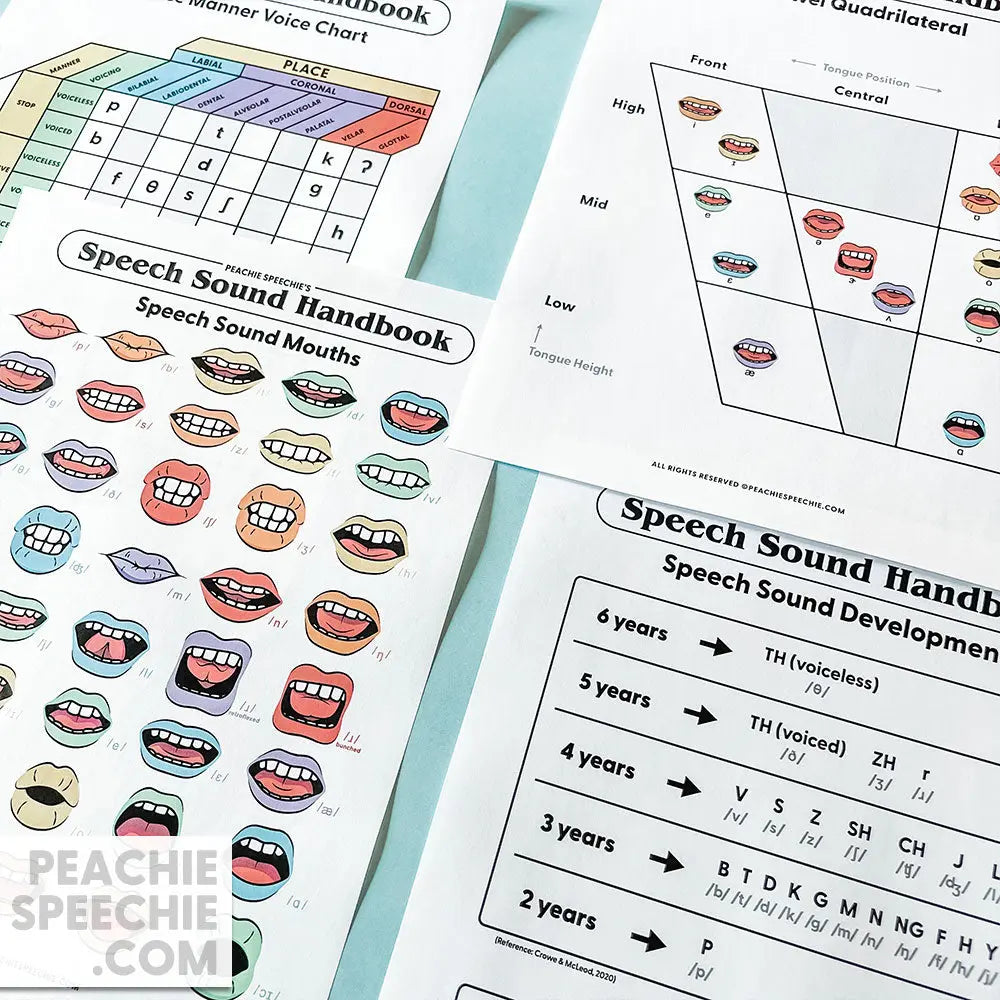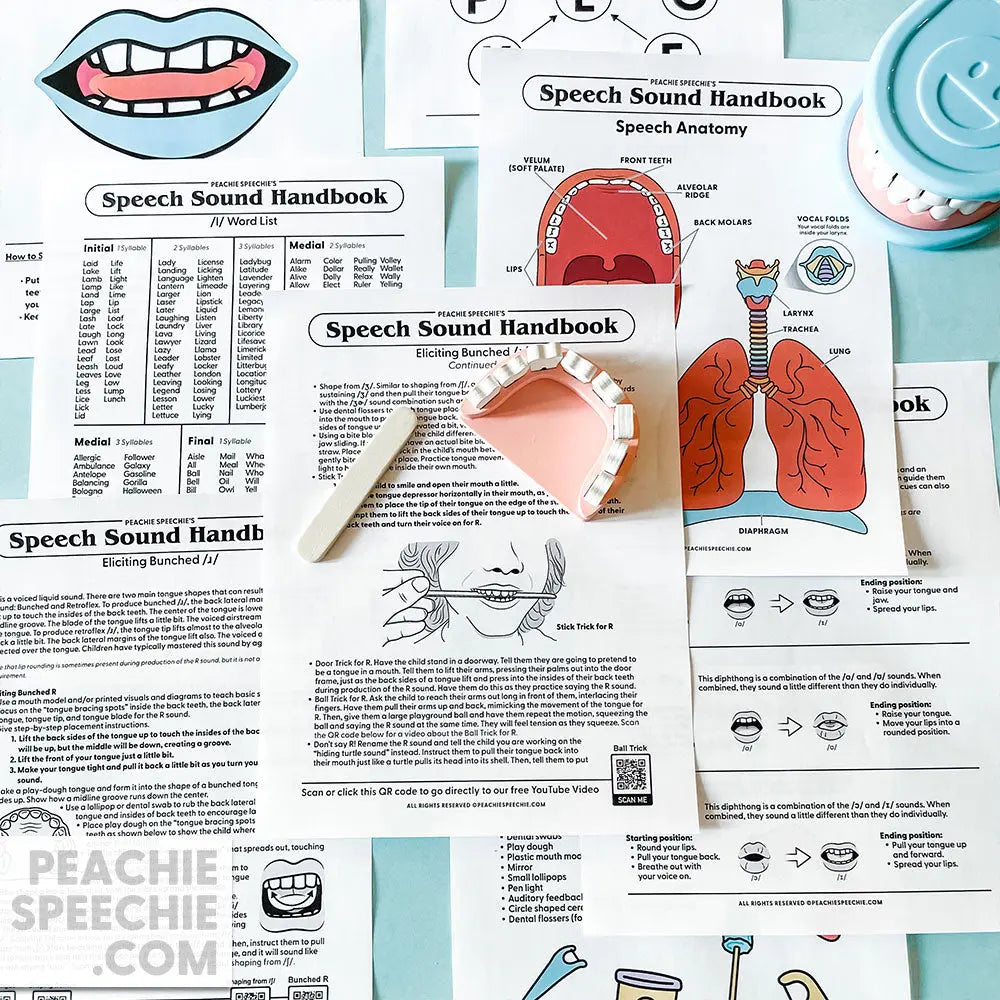 This Speech Sound Handbook is an essential resource for pediatric speech-language pathologists. Packed with effective exercises, clear visuals, and convenient word lists, this guide is perfect for helping clients of all ages achieve clear and accurate speech. Whether you're a therapist working with children or adults, this handbook has everything you need to take your clients' speech to the next level.
This comprehensive guide is packed with effective and engaging exercises for teaching articulation, making it the perfect tool for any therapist looking to take their clients' speech to the next level. With clear explanations, detailed diagrams, and helpful examples, this handbook will become a staple in your therapy sessions. Whether you're working with children or adults, this handbook has everything you need to help your clients achieve clear and accurate speech. 

This Speech Sound Handbook was created to provide pediatric speech-language pathologists with clear visuals, convenient word lists, and simple elicitation tips to use with students during speech therapy sessions. 

You can print and bind this handbook like in the photo. However, this is a digital download (pdf ebook) product that will not be shipped. Aside from being eco-friendly, there are great advantages, such as printing multiple copies, printing only specific pages you need, and having access to updates.

Included for each sound (consonants and vowels): 

Detailed professional mouth illustrations 

Written instructions on how to produce the sound 

Word lists for every consonant and vowel (all word positions) 

List of elicitation tips for each sound 

Additional resources included: 

Place Manner Voice Chart 

Sound Development Chart 

Vowel Quadrilateral 

Sound Stimulability Checklist

Visuals for teaching speech anatomy 

List of recommended articulation therapy tools  

This quick reference guide was designed to be a valuable tool for SLPs, SLPAs, and graduate student clinicians. We hope the bright, colorful visuals and therapy tips increase your confidence when eliciting sounds. 

Total of 136 pages. 

The mouths and other illustrations in this book are original works of art. They are copyright registered and cannot be copied, reproduced, duplicated, or shared by any means. Please reach out with any questions to legal@peachiespeechie.com
Shop Video Worksheets
View all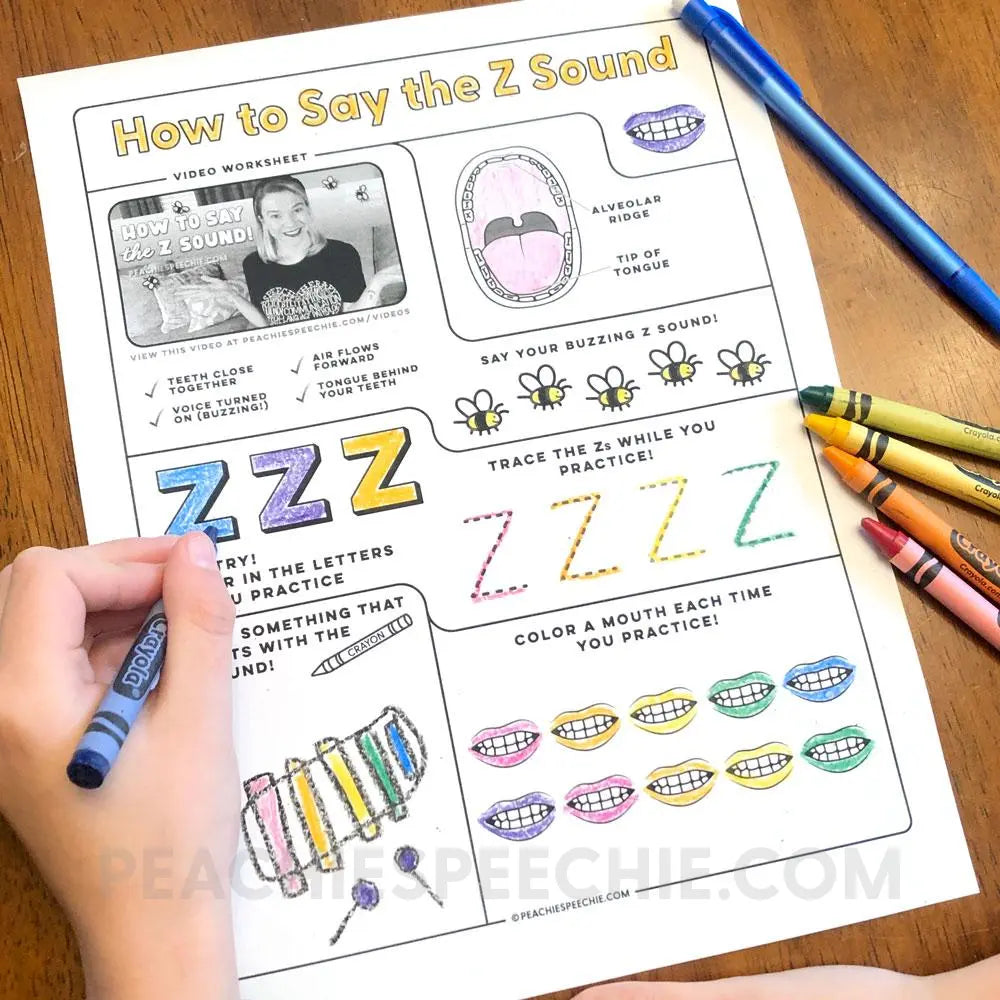 Shop All Materials
View all
Save 8%
Save 10%
Save 46%
Save 100%
Save 23%
Save 14%
Save 11%
Save 5%
Save 20%
Save 42%
Save 14%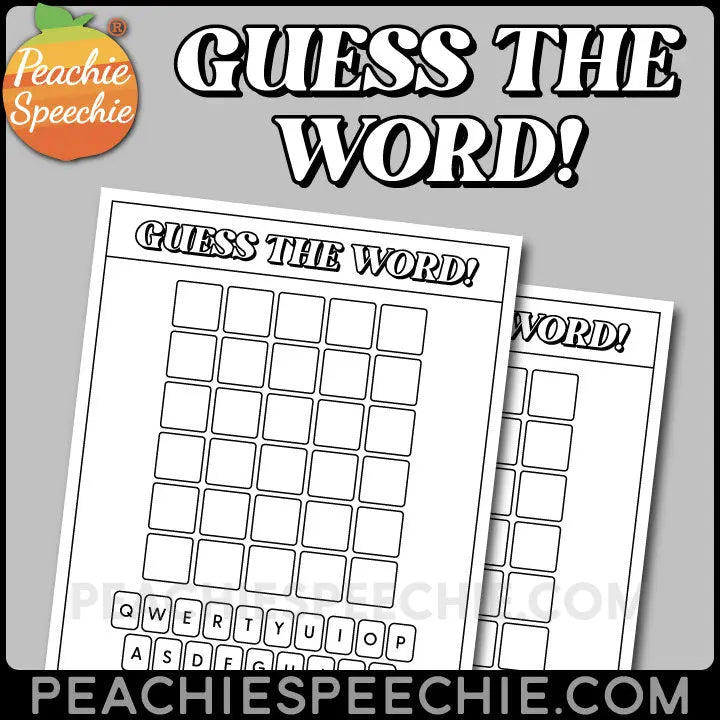 This free speech therapy video collection from Peachie Speechie is designed to help individuals learn speech sounds and improve their articulation. The videos feature expert speech therapist, Meredith Avren, demonstrating proper techniques for forming and pronouncing various sounds, with clear explanations and unique visual aids to assist with understanding. The videos include exercises and drills to learn & practice specific sounds, as well as tips and strategies. The videos cover a wide range of sounds, including blends, and are suitable for people of all ages.