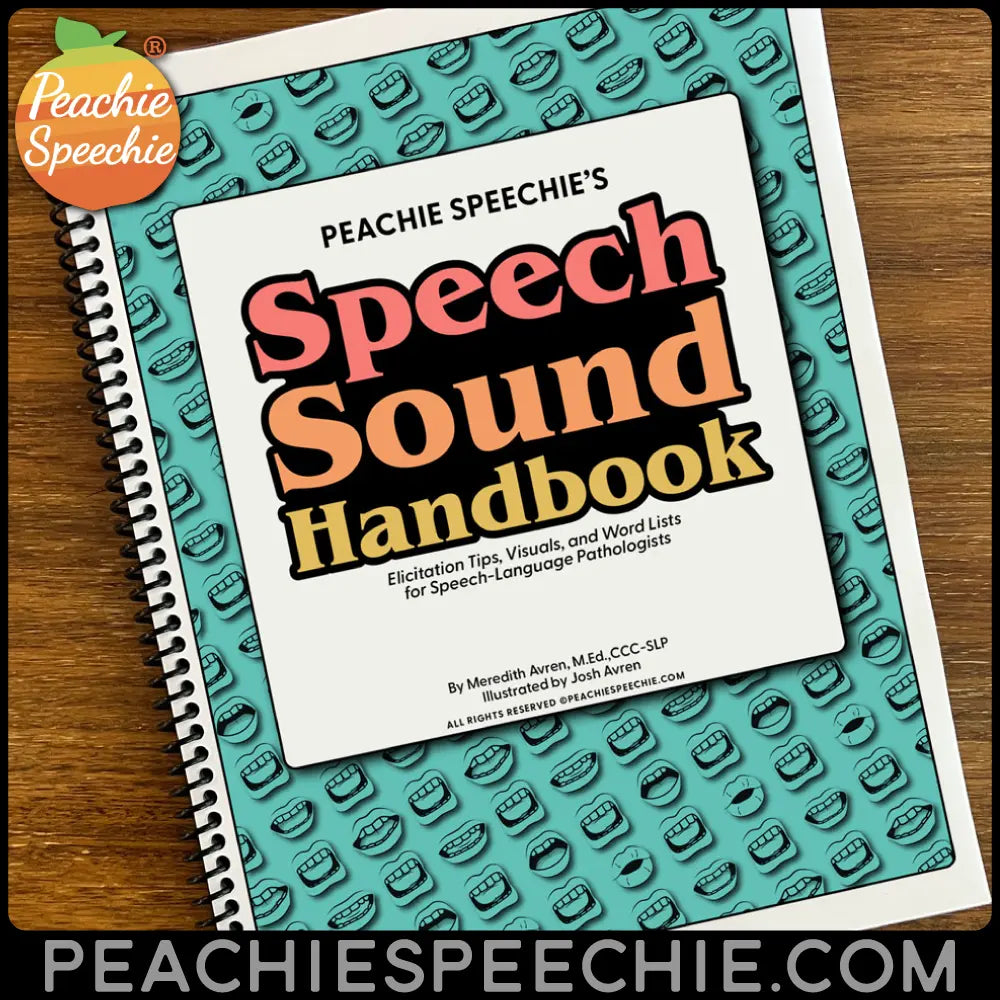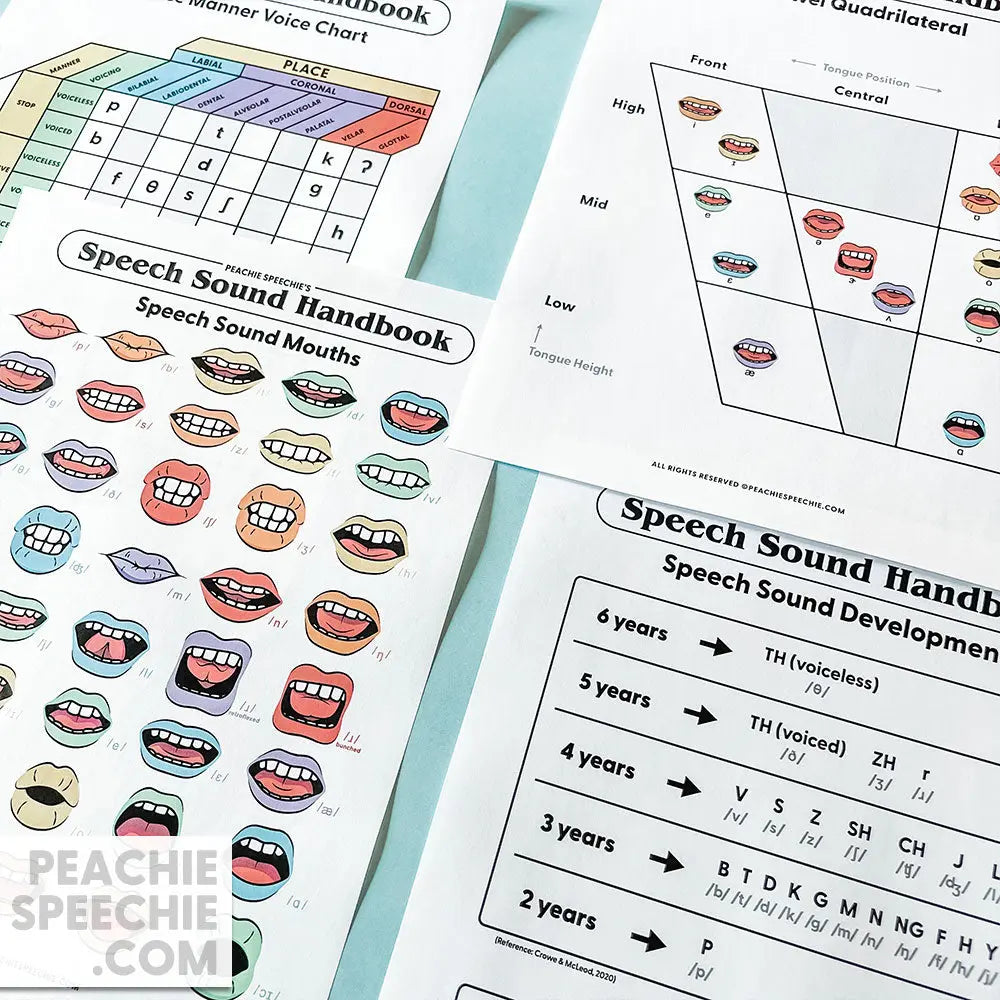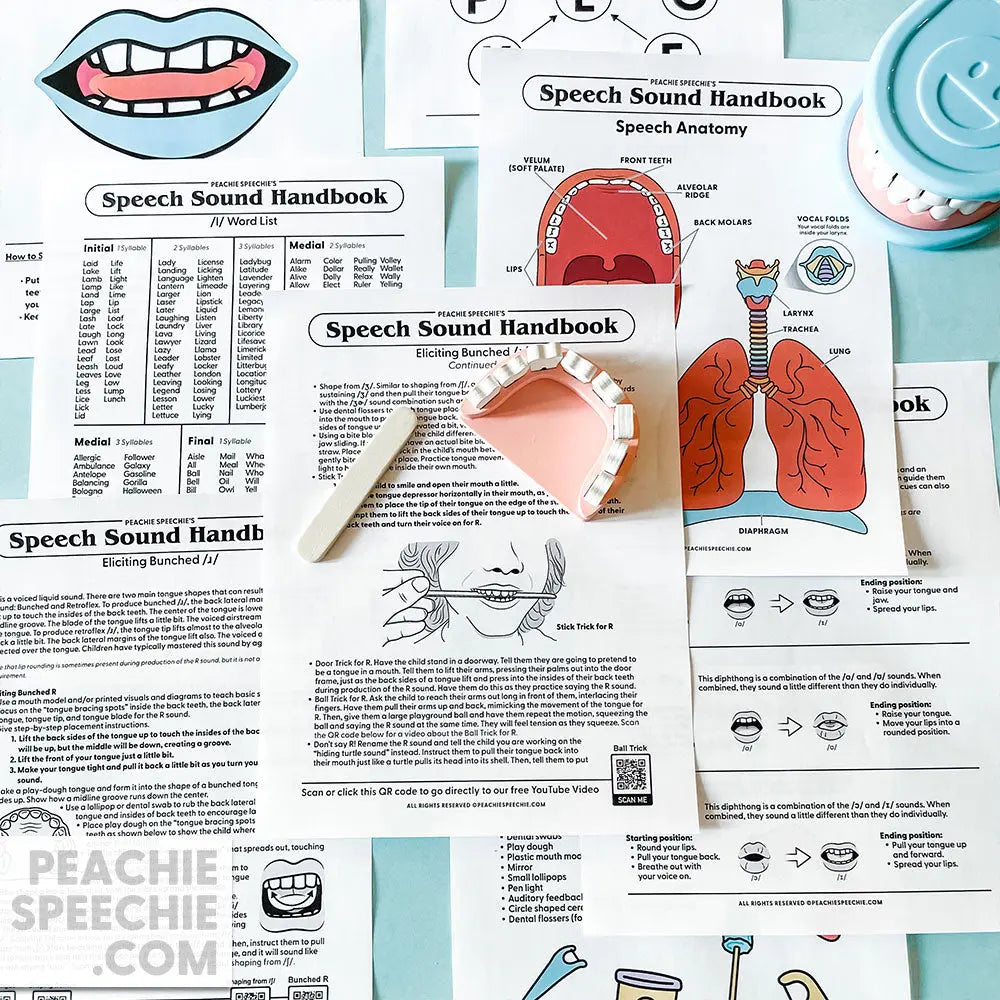 Speech Sound Handbook by Peachie Speechie
---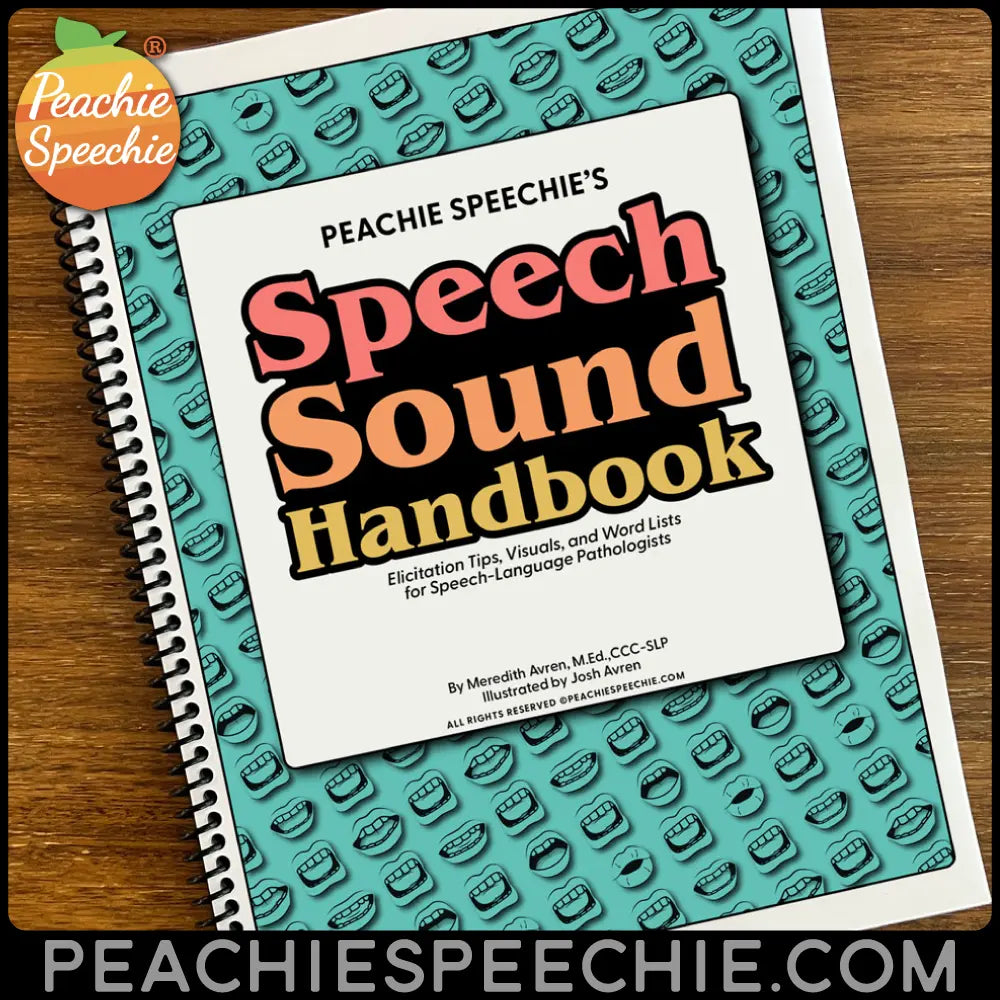 This comprehensive guide is packed with effective and engaging exercises for teaching articulation, making it the perfect tool for any therapist looking to take their clients' speech to the next level. With clear explanations, detailed diagrams, and helpful examples, this handbook will become a staple in your therapy sessions. Whether you're working with children or adults, this handbook has everything you need to help your clients achieve clear and accurate speech. 
This Speech Sound Handbook was created to provide pediatric speech-language pathologists with clear visuals, convenient word lists, and simple elicitation tips to use with students during speech therapy sessions. 
You can print and bind this handbook like in the photo. However, this is a digital download (pdf ebook) product that will not be shipped. Aside from being eco-friendly, there are great advantages, such as printing multiple copies, printing only specific pages you need, and having access to updates.
Included for each sound (consonants and vowels): 
Detailed professional mouth illustrations 

Written instructions on how to produce the sound 

Word lists for every consonant and vowel (all word positions) 

List of elicitation tips for each sound 
Additional resources included: 
Place Manner Voice Chart 

Sound Development Chart 

Vowel Quadrilateral 

Sound Stimulability Checklist

Visuals for teaching speech anatomy 

List of recommended articulation therapy tools  
This quick reference guide was designed to be a valuable tool for SLPs, SLPAs, and graduate student clinicians. We hope the bright, colorful visuals and therapy tips increase your confidence when eliciting sounds. 
Total of 136 pages. 
The mouths and other illustrations in this book are original works of art. They are copyright registered and cannot be copied, reproduced, duplicated, or shared by any means. Please reach out with any questions to legal@peachiespeechie.com
This product is rated 5.0 of 5.0 stars.
It has received 13 reviews.
5 stars y'all!
Love love love this guide! Much more helpful than anything I've come across. Peachie Soeechie is my go to for articulation videos and therapy materials. I transitioned from schools to pediatric home health and I STILL use all Peachie Speechie therapy materials and videos.
Great resource!
I love this book! The mouth pictures are great, and very engaging for my young clients. The teaching tips are also great to share with parents when they are doing home practice.
Game Changer
These materials are GAME CHANGERS in therapy! HIGHLY RECOMMEND!!!
Beautiful and Helpful Visuals!
I love this handbook! It helps me learn new ways to elicit sounds, especially as a baby SLP.
Furthermore, I love the beautiful visuals as well as QR codes to scan for helpful videos! :)
A great resource at your fingertips!
Love that everything is in one binder! Always reach for it for my session! Great resource!
Very helpful and useful
This book is so helpful with my school age students