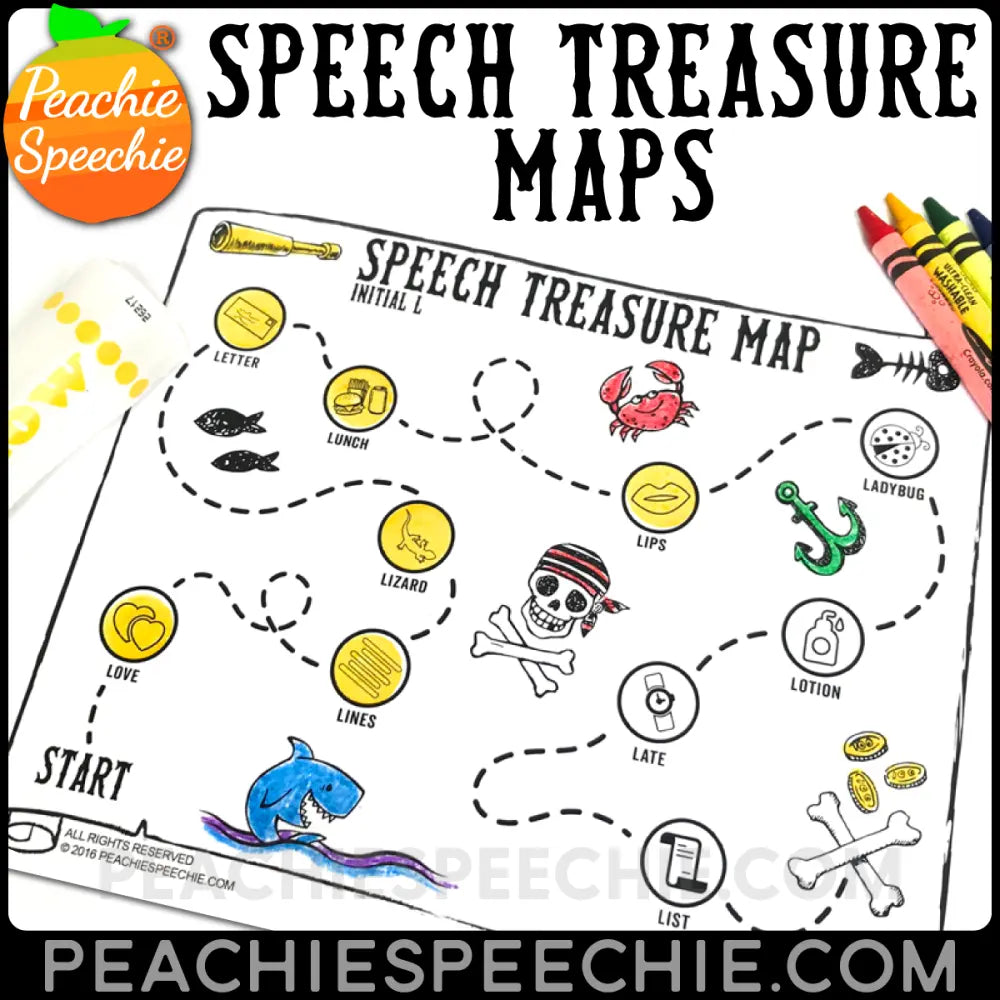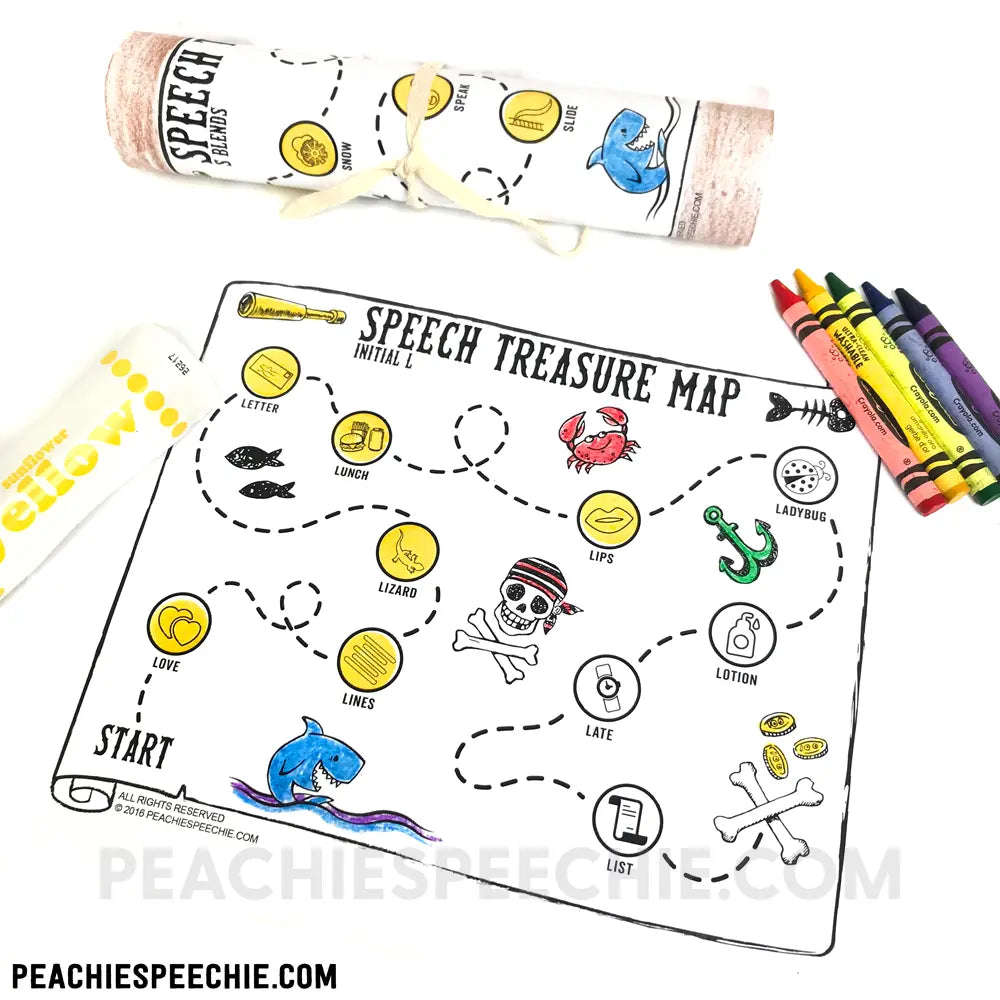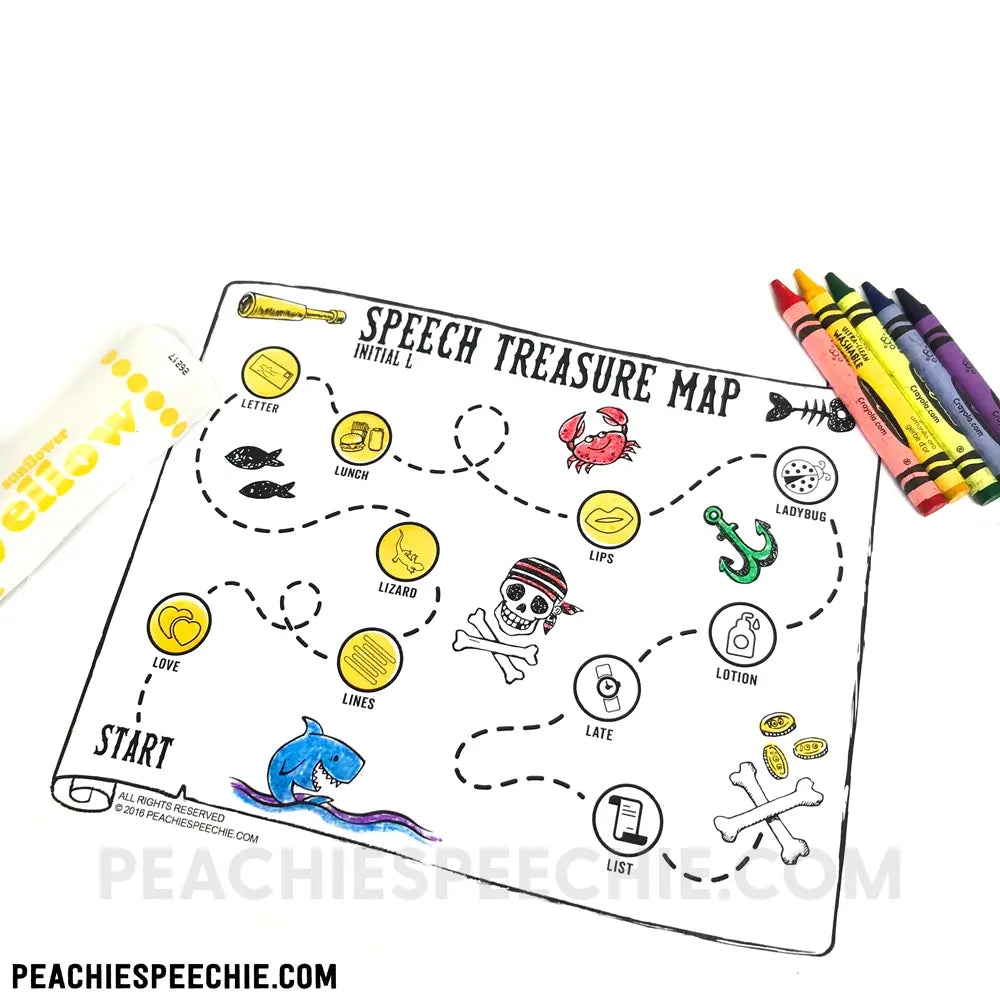 Speech Treasure Maps
---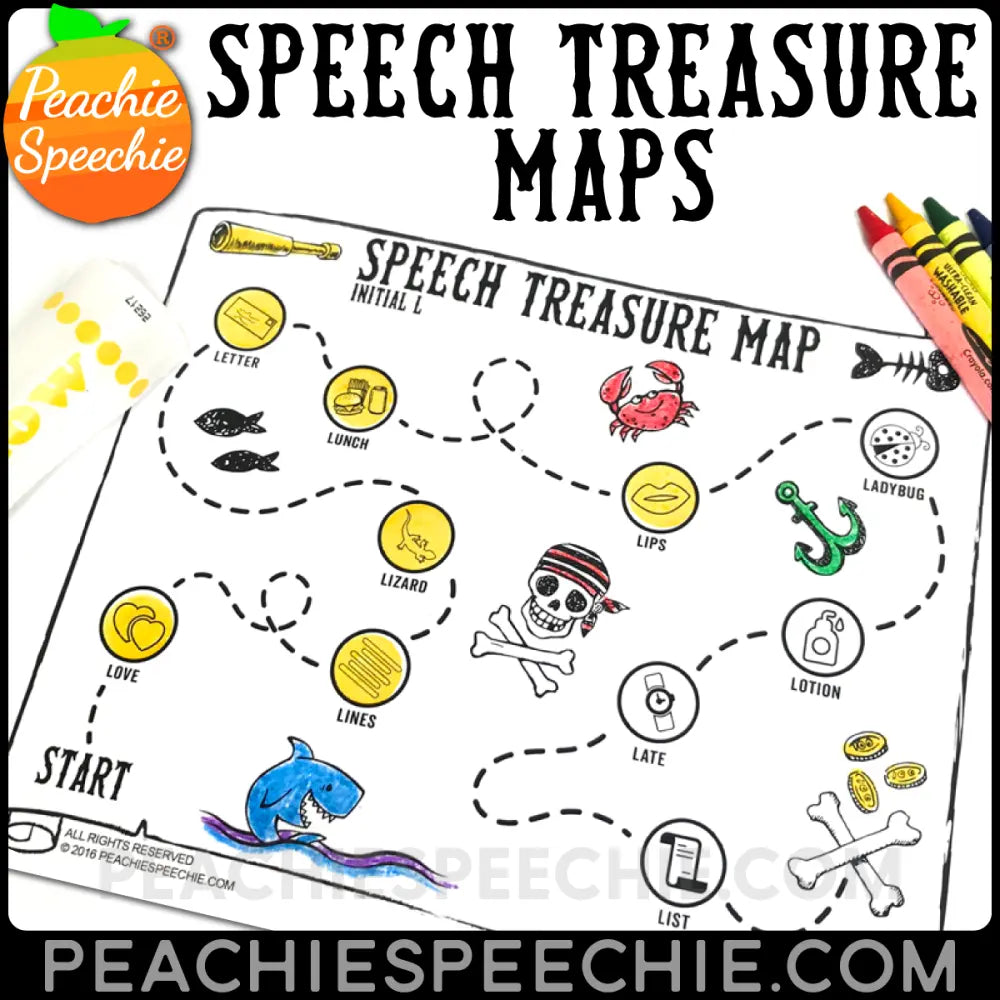 Ahoy, Matey! If yer lookin' fer a pirate-themed speech therapy activity, look no further! These maps are NO-PREP! Just print and go! All black and white so ye wonât waste yer color ink! This set of speech treasure maps is sure to bring a smile to your student's faces.
The set contains 44 maps targeting the following speech sounds:
CVC final /p/ (1 map)
B initial (2 maps)
B final (1 map)
M initial (2 maps)
T initial (1 map)
CH initial (1 map)
CH medial (1 map)
CH final (1 map)
F initial (2 maps)
V initial (2 maps)
G initial (2 maps)
G medial (1 map)
K initial (2 maps)
K medial (1 map)
K final (1 map)
L initial (2 maps)
L final (3 maps)
R BLENDS (2 maps)
R initial (2 maps)
R medial (2 maps)
R final (2 maps)
S BLENDS (2 maps)
S initial (2 maps)
S medial (1 map)
Z final (1 map)
J initial (1 map)
SH initial (1 map)
How to use these speech treasure maps:
Print the maps for the desired sounds and give them to students.
Give each student some crayons.
Students use the crayons to trace along the map. When they get to a target word, they must stop and say the word 10 times.
After the student has said the target word 10 times, they can color the pictured item with their crayons.
Students continue until they have reached the gold coins and the "X marks the spot" at the end of the map. They will have said their target sound 100 times by the end!
This product is rated 5.0 of 5.0 stars.
It has received 4 reviews.
Great for telepractice
SLP here whose practice veered to adult healthcare for years, then transitioned into part-time with students with dyslexia, without much in the way of fun materials to use in virtual practice….I am loving your no prep, appealing materials! I can grab a game to have under a doc cam and keep a child hooked practicing without resistance. The trick is having something that "looks" different every time, as anyone working with kids can attest. This one will be a big hit, and as with so many of your items, is very adaptable for decoding/fluency practice in working with dyslexia in children! Thanks for your generosity in offering so many freebies!
Speech Materials
I am so grateful for SLPs that somehow find the time to be creative and make materials for themselves and other SLPs. Peachie Speechie is generous with free materials and materials that you can buy at a reasonable price. Thank you! Love all you do! Oh, and the videos you make are fantastic! Thanks again!
Never Disappoints
These products never disappoint me. My students love them and their families love when provided with the worksheet for homework. These worksheets are so quick and easy to use on the go! It's perfect!
So cute
I love these and so do the kiddos.