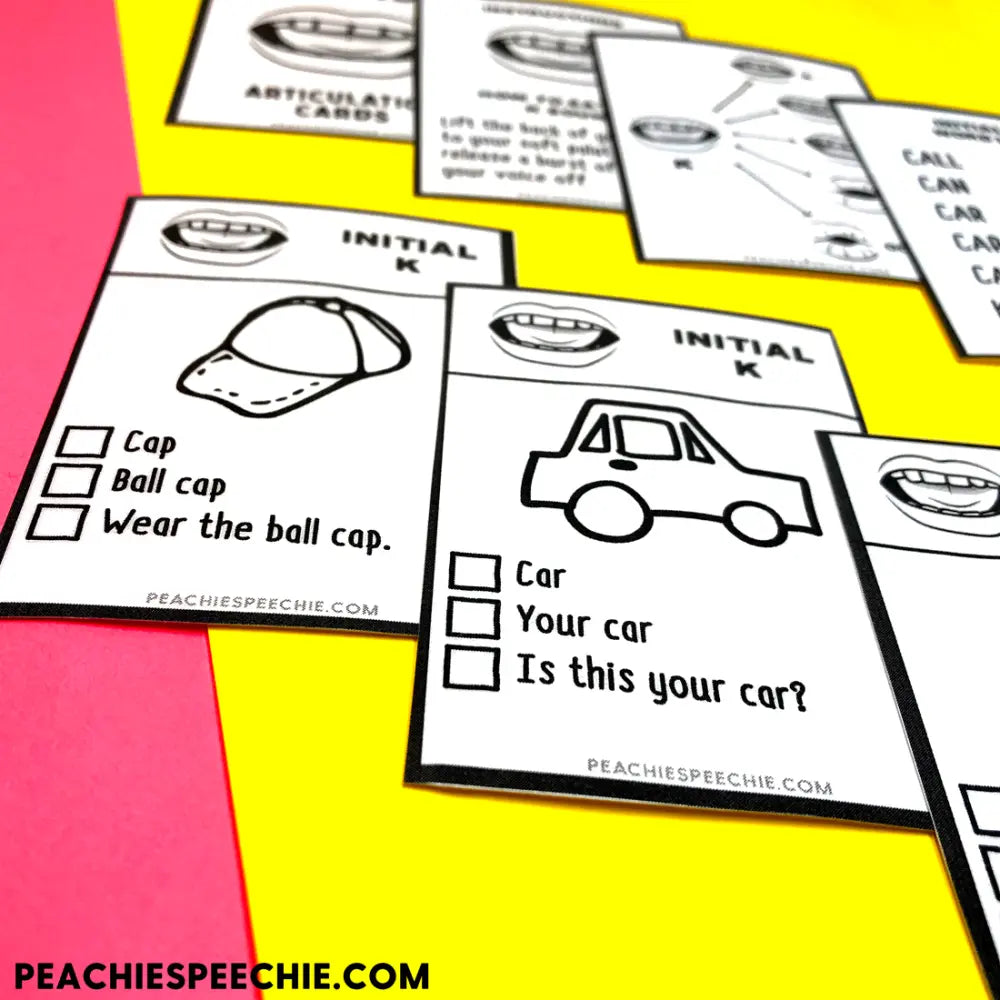 Sample of Drills for Skills
---
Target the initial K sound with this professionally designed resource! With this free download, you'll enjoy drill sheets AND flashcards. This is a sample of our giant Articulation Therapy Bundle. It includes a card deck from our Articulation Flashcards set in addition to a set of drill pages from our Drills for Skills workbook. 8 pages included in this sample.
DRILL SHEETS for initial /k/
K in isolation dot-sheet
K in syllables dot-sheet
K in words drill worksheet with pictures
K word list drill worksheet (no pictures)
K in sentences drill worksheet
K progress monitoring page
FLASHCARDS for initial /k/
Initial K Card Deck includes 16 total cards. Each practice card includes a visual cue (mouth picture), picture of the target word and practice at the word, 2-word phrase, and short sentence level. Other cards included in the deck are an instructional card, a syllable-level practice card, and a written word list.
The pictures and target words from the drill pages are the same as the flashcard targets. This is great for consistent practice and progress monitoring!
Download the full BUNDLE here:
Articulation Speech Therapy Drills for Skills and Flashcards Bundle
If you have any questions or comments, please contact me at meredith@peachiespeechie.com
This product is rated 5.0 of 5.0 stars.
It has received 50 reviews.
Love it!
Thanks so much for sharing your great work!!
Really useful for practice
Drills for Skills + Articulation Cards
Great fun worksheets. My student loves them.
Time Saver
This is a great resource all around, but an especially helpful time saver!!
Free Sample of Drills for Skills + Articulation Cards by Peachie Speechie